The Handstand Push-Up Progression Table By Swift Calisthenics is designed to help you progress to doing full-depth handstand push-ups as quickly as possible.
If you can't yet do full handstand push-ups, one way to get there is to do partial reps.
Here's what I mean.
If you can't yet do a full rep, where you go from the top position in a handstand (arms straight, head furthest from the ground) to the bottom position (head touching the ground), and back up again, then you do a partial rep, where you start from the top position, descend only by say an inch, then push yourself back up again.
The key with partial rep training, is once you get good at doing 1 inch partial reps, you then crank up the difficulty by doing 2 inch partial reps, and so on, until you're doing full reps all the way to the ground and back up.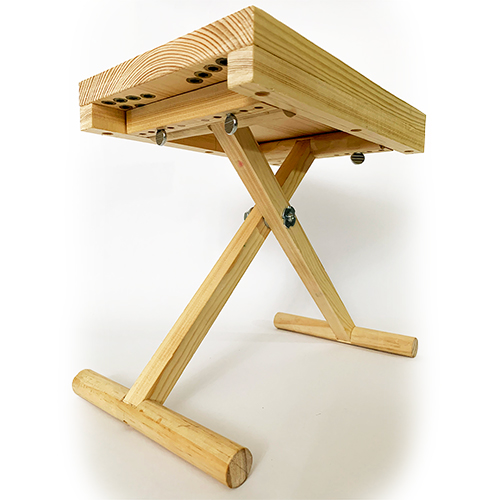 The Handstand Push-Up Progression Table by Swift Calisthenics gives you 17 different stages for doing partial handstand push-up reps. Starting with a height of 30 cm (stage 1), you can adjust the table so it lowers by 1.5 cm at a time, through 16 different stages, until you're doing handstand push-ups all the way down to the ground.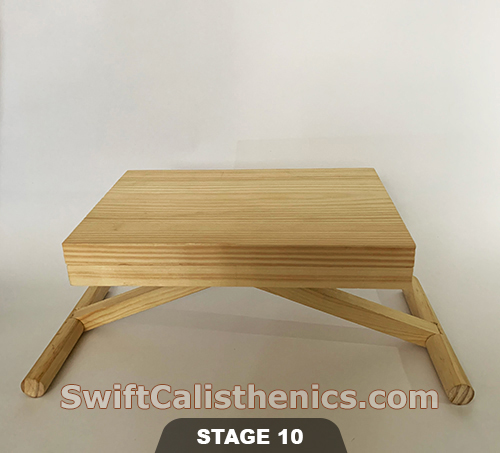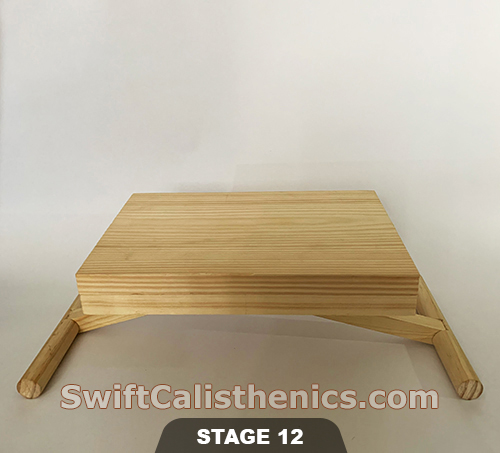 vlcsnap-2020-05-02-21h42m40s499
vlcsnap-2020-05-02-21h45m08s586
vlcsnap-2020-05-02-21h45m39s142
vlcsnap-2020-05-02-21h46m22s750
vlcsnap-2020-05-02-21h46m41s898
vlcsnap-2020-05-02-21h47m04s280
vlcsnap-2020-05-02-21h49m08s395
vlcsnap-2020-05-02-21h50m46s807
vlcsnap-2020-05-02-21h51m43s108
vlcsnap-2020-05-02-21h51m51s973
Here's what makes this Handstand Push-Up Progression Table special:
Measured progressions by 1.5 cm, which is ideal for helping you to progress in handstand push-ups. I've looked, and I couldn't find anything else that helps you do this so conveniently.
Each position is fixed. You don't have to worry about inadvertently losing your position. You can take as long as you like at each stage, and only reduce the height of the table when you're ready to move to the next stage.
When you are ready to progress to the next stage, it's easy to lower the hight of the table, you can do it by hand in a few seconds.
It looks cool when you leave it out, plus it's easy to fold it up and put away so it takes up minimal space.
You don't only have to use it for handstand push-ups. You can use it to help you in progressions for standard push-ups, one-arm push-ups, dips, pistol squats, and an untold number of other calisthenics exercises.
I remember back in the day trying to do handstand push-up progressions using a pile of books.
As I got stronger, I'd pull one book away.
However, some of the books were too thick and some too thin. Sure, I could remove two thin books, or replace the fat book with a thin one, but it got messy, and there wasn't any measured progress, I couldn't tell that the stack of books was getting shorter, and this destroyed my motivation.
Also, sometimes I'd remove too many books or someone else in the house would take a book off or something. Plus a stack of books lying around in your room looks messy and it gets in the way.
So that's why I created the Handstand Push-Up Progression Table, with measured progressions that are perfect for helping you progress with handstand push-ups.
Imagine the kind of strength you'll have when you can do full-depth handstand push-ups. Carrying your full bodyweight in your arms like that is like having the strength of your legs in your arms.
So if you've always wanted to be able to do handstand push-ups, or you've been trying for a while and having a hard time, then send for your handstand push-up progression table right now, and let's see how much better your progress is just one month from now.
How Much Does It Cost?
The Handstand Push-Up Progression Table is hand-made, and it takes quite some time to make one. Most woodworkers would charge you £180 just for labour. I'm currently charging just £99 for labour, materials, and shipping to the UK. The low initial price is so I can get feedback on the product – nothing like it exists on the market, and I want to know what people think about it when they've got one in their hands. But as soon as I've got that initial feedback…
The Price Is Going Up
For labour, materials, and shipping, I should be charging around £250 for one of these. I'll soon be testing a price point of £149, then £199, then £249. So get yours for £99 while you still can.
The Waiting List For This Product Is Growing, Please Order Right Now To Secure Your Spot
Since the Handstand Push-Up Progression Table is hand-made one at a time, I'll be taking orders on a first come first served basis, so if you don't want to be waiting weeks before you get started on those handstand push-ups, then the best time to order is right now.
Questions?
Please feel free to email me at [email protected].
Frequently Asked Questions
Q: Can I order from outside the UK?
A: I'm based in the UK, but I am happy to ship the product internationally, if you are willing to pay the postage and any customs or import duty. Postage costs to your country will be shown to you at checkout. If your country isn't listed, please get in touch with me and I'll try and make it available where you are.
Q: How long before I can start doing full depth handstand push-ups?
A: This totally depends on a number of variables, for example, your current level of ability, your bodyweight, your height, how much time and effort you put into your training using the table, and even your diet.